Your dynamic duo of all things disturbing met over their mutual love of true crime. After many months of trying to decide if the commitment levels were real, Regina sat down with Lynn in a coffee shop and they decided to make their fever dream of a podcast happen. I know, so Seattle right?
Now they have been bringing disturbing histories and terrible mysteries to every major podcast platform for years. The have brought together a community of like minded disturbed with the friendly reminder that you might be disturbed, but you're not alone.
Hosts: Regina King and Lynn Rosskamp
Regina King, the Evil Queen
Regina is a plus sized model, author, and artist who has has had life long disturbing interests. Her sweet spouse pointing this out is how the show got it's name.
Her top favorite disturbing interests are, H.H. Holmes, the mystery: did Hitler actually escape, Yokai, and ancient sacrificial practices. Regina is called the darker side of terrible since she normally tackles the more unpleasant subjects on the cast.
Her more typical interests quickly betray her to be the geek that she is. A true Whovian, who loves good anime, and comics (especially Batman). Regina is a painter who prefers acrylics, paper and clay sculptor, and a crafter in various other art forms.
If Regina is not podcasting, painting, or writing then you will find her out on the town living her best life around Seattle, usually with her charming husband Mr. Meow.
Lynn Rosskamp, The Docent of Darkness
Lynn is a professional artist, a art instructor, and a docent for The Frye, a local Seattle Art Museum. The only one of the two who can say that they are as 'mad as a hatter' with any legitimacy, having once been a hatter, she knows how to keep it strange.
The Docent of Darkness has a big heart for animals and is virtually a modern day Willard, sans the ability to control her rats, because they do what they want. She has a large family of rats, and cats who eat up her undivided attention any chance that they get. Her tiny fuzzy ones are often mentioned on the podcast.
Lynn creates amazing etchings that can be found in galleries and on her Etsy shop, Print Witchery. Lynn is a fan of H.P. Lovecraft and his creations, especially that god of madness Cthulhu, art history, the hand of glory, and Japan. Lynn is married to a tall drink of German water, Wilhelm, who acts as a German pronunciation consultant for the cast.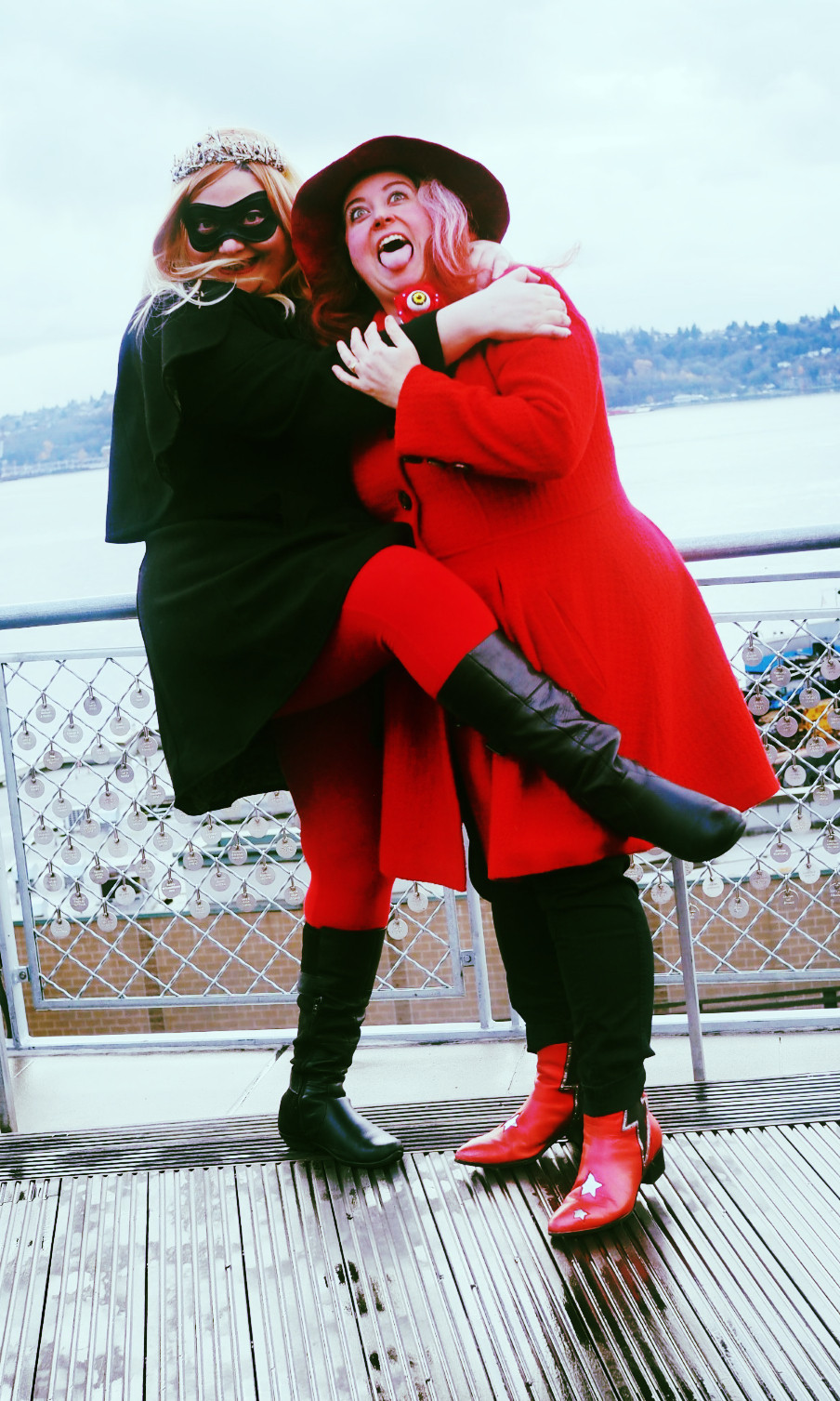 Photography by: Super Nova Haze, Wil Fitzpatrick, and Dennis Herrera